For Online bookings please follow the link Online Bookings
4 Week Courses
I have two concurrent classes suit a Beginner or an intermediate to advanced students
Beginning Watercolour - Online Course (6 Weeks)
 Advancing with watercolour (4 Weeks) Online Course
Duration :  4 Weeks
Wednesdays Time : 6:30 pm - 9:30 pm AEDT (Australian Eastern Standard Time) Tuesdays Time : 10:30 am - 1:30 pm AEDT (Australian Eastern Standard Time)
Course Fee : $ 230.00 Lessons: The lessons will be hosted using Zoom, you do not need a Zoom account, just access to internet, laptop microphone and camera is sufficient **Limited Seats**
Time Zones for Classes
Canberra 10:30 AM AEDT
London, 9:30AM
Madrid, 8:30PM
Paris, 10:30AM
Tokyo, 5:30PM
Barcelona, 10:30AM
Singapore, 4:30PM
Seoul, 5:30PM
Dublin, 9:30AM
Lisbon, 9:30AM
Cardiff, :9:30AM
Canberra 6:30 PM AEDT
Tokyo, 9:30 AM
Wellington, 12:30 PM
Singapore, 8:30 AM
Seoul, 9:30 AM
Denver, 6:30 PM
Dallas, TX, 7:30 PM
Phoenix, 5:30PM
Santa Fe : 6:30 PM
Chicago, 7:30 PM
Austin, TX, : 7:30 PM
Information
1.Beginning Watercolour - Online Course (6 Weeks)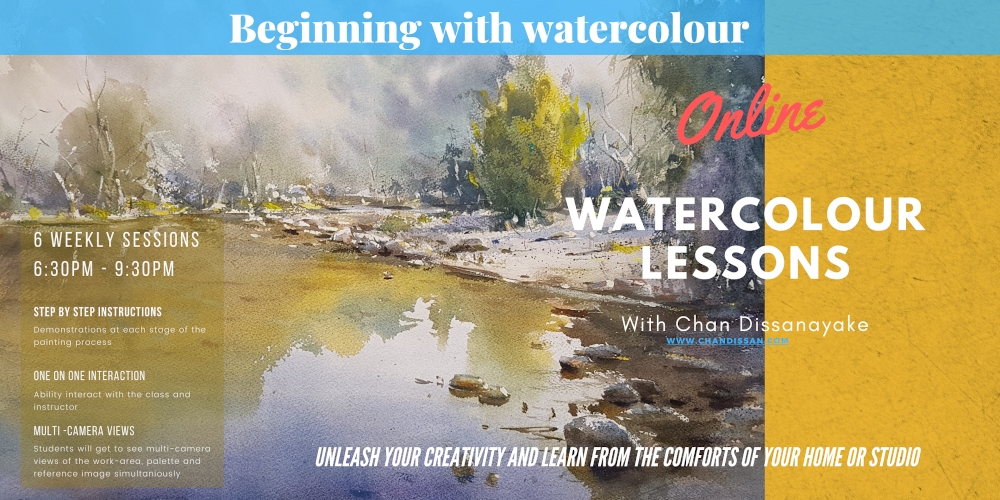 Description
This course is designed to suit a beginner student who wants to experience the joys of the watercolour medium and learn the essential technical skills in producing successful paintings. Learning the fundamentals is the key to unrevealing the magic of this illusive medium. This well-structured course with many demonstrations, hands-on exercises and good guidance; the student will gain a wider appreciation and understanding of the medium of watercolour, which will help them build their confidence to express with greater freedom. At the start of each lesson the students will be taken through a thorough discussion and explanation on the day's topic including slide presentations and demonstrations. Then a demonstration of a simple painting will be completed based to the techniques discussed. Stopping at each stage for the students to catch-up. Tutor will offer online one-on-one assistance to each student as they complete their painting. This online class will be led by Chan Dissanayake, who is highly knowledgeable teacher in the field of watercolour.
Week 1 - Introduction to Watercolour and Materials and Properties of Colour
Week 2 - Wash and Glazing techniques
Week 3 - Wet-into-Wet Technique
Week 4 - Understanding Timing in Watercolour
Week 5 - Tonal Values
Week 6 – Planning & Composition
Learning Outcomes
At the end of this course, you should:
Become familiar with the medium and watercolour techniques
Be able to plan an approach and method to complete a painting
Learn how to paint different subjects
Create fresh and lively paintings
Complete a series of paintings.
Who should enrol?
This course is best suited beginner students willing to learn the medium of watercolour
2. Advancing with watercolour (4 Weeks) Online Course
Description
If you have worked with watercolours and enjoy the challenge of producing loose, bold and free watercolours, then this is for you. Learn how to create depth, incorporate figures, connect shapes, and control edges as you discover how to exploit the medium to create wonderful atmospheric effects such as mists, rain and fog.
Course outline
These workshops will suit students who have been exposed to the medium of watercolour and want to extend their knowledge to the next level. Each week we will complete a new painting from start to finish. The course will begin with simple subjects and proceed to more challenging subjects. Each week students will be taken through the stages of design, drawing and painting in an easy follow step-by-step process. Students with be able to join the class online and interact with the tutor as well as other students. They will be able to view the tutor's demonstrations simultaneously using multiple cameras. Students will be given time to complete their own work at each stage. Each week the class will be tackling a different subject matter offering variety of subjects from rural landscapes, urban cityscapes to coastal seascapes. Chan will dispel myths in watercolour and share his valuable insights and experiences. Each student will receive personal attention and encouragement.
Learning outcomes
By the end of this course, you should walk away with a sound understanding of the medium of watercolour and gain practical insights into the intuitive use of watercolour to express your own impressions.
Who should enrol?
This course is best suited to intermediate to advanced students.
3 Week Refresher Class *NEW*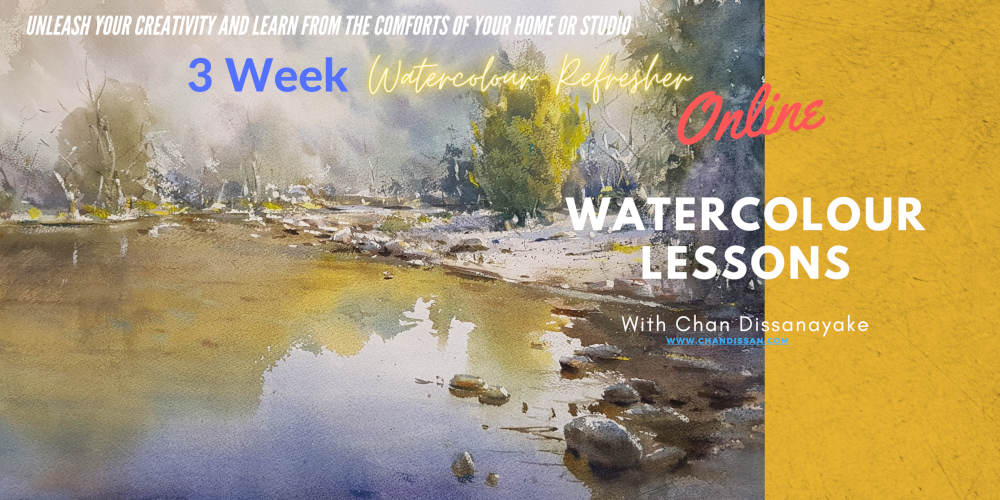 I'm offering a NEW 3 week Refresher Course, focusing on 3 specialized topics, these would be very useful to students who are intermediate to advanced who would not need to revisit fundamentals, and beginners who want to extend their knowledge.Over the last 10 years of teaching watercolour, I have come across most common areas of knowledge gaps in students. To paint effectively in watercolour, there are some essential skills that the students must acquire. It will take years if not decades to acquire these skills through trial and error. I have designed these specialised set of classes to fill these gaps, where I feel is important.
Week 1
SHADOWS and Reflections
There are times that the form or shape of an object is revealed more by its shadow than the object itself. Learn about
SHADOWS
Different types of shadows
The three most important types of light
Warm and Cool light
How to observe reflected light
How local colour is affected.
How the transparency of watercolour is important in painting shadows, which is distinctly different in opaque mediums like oil and acrylics
REFLECTIONS
How to observe reflections
Rules of Reflections
Soft, Mirror or Broken
Week 2
WET into WET Technique
The magic of watercolour is often portrayed using the wet-into-wet technique.
Understand the stages of wetness on the paper
Paint/Water consistency ratio
Timing
Which brushes for which purpose
Learn how to produce different types of Edges
Which types/Textured paper produces the desired effects.
Week 3
COMPOSITION
Success to any painting relies on a good composition. It is believed that 60% of painting is composition, yet most of us ignore this and rush in without a clear plan.
What makes a good composition
Elements and Principles of Design
Rules or Guides of good Composition
What tools can be used including software.
Learning outcomes
By the end of this course, you should walk away with a very sound understating of how to paint Shadows and Reflections, with advanced knowledge of Wet-in-Wet Technique and an in-depth knowledge on composition and design.
Demonstrations
Each week we will complete a small demonstration based on the topics discussed.
Who should enrol?
This course is suited for students at any level.
Duration : 3 Weeks
Time (Tuesdays) : 10:30 am - 1:30 pm AEDT (Australian Eastern Daylight Time )
Time (Wednesdays): 6:30 pm - 9:30 pm AEDT (Australian Eastern Daylight Time )
Course Fee : $ 165.00
Lessons: The lessons will be hosted using Zoom, you do not need a Zoom account, just access to internet, laptop microphone and camera is sufficient
**Limited Seats**